The clutch that I won from Red Ruby Rose arrived in the mail yesterday! 
The outer packaging was adorable so I took a few quick photos as I opened it on the front porch.  I love that my address looked like it was printed on a tag but it cracks me up when you ask politely, "please do not bend" but the mail carrier does his best to do just that as he crams it in your mail box.  It must not have been my regular guy because he's really good.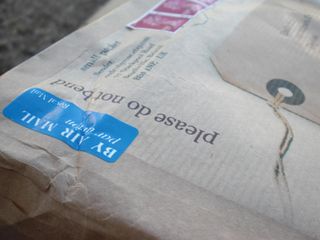 And because I'm a sucker for packaging - I loved the simplicity of this.  A little note was written on the reverse side of the tag.  I have to point out that the button is actually sewn to the ribbon - it's little extra details like that that make me swoon.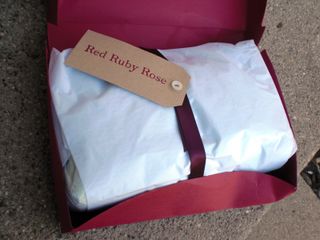 The clutch - I love it.  I wish it had a tad more pink but green is my favorite color and an accent color in the wedding (our main colors are pink, orange and yellow).  I contemplated several others that were white or off white but I wanted something that I would really want to carry on days other than my wedding day.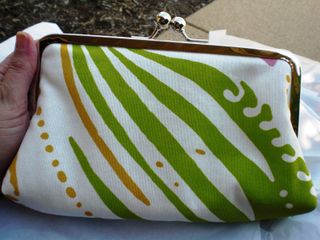 And the inside.  Even the tag (which I didn't think to photograph) in the corner is cute and I had to smile when I flipped it over and read, "Made in England" - hopefully there were will be some Made in England things from me, too, in the not so distant future.  And I'm not talking about things that are made with fabric or fiber.  :)