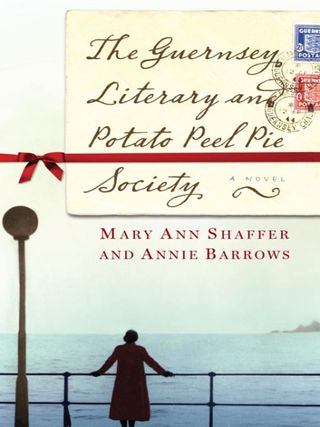 I cannot say enough about this book.  I bought it on a whim for the flight back since I knew I was too near to finishing The New Kings of Non-Fiction (also good - the last few stories are waiting in a drawer in my craft/writing room for my return in July) and I'm so glad I did.  I started it before I left (in a pink bath thanks to a Comforter Lush bath bomb) and could hardly put it down which meant I, unfortunately, didn't leave myself enough to last the entire flight but it was so worth it.  I was a little leary of a book comprised completely of letters but the character development was fantastic and - to overuse an overused phrase - I didn't want it to end.  The ending itself is a little predictable but by the time you get to it you really want the predictable to happen so even that negative is a positive.  I can't wait to read it again and recommend that everyone add it to their summer reading list.  
Before I left I also finished listening to The History of Love by Nicole Krauss.  The title screamed "romance" to me and I'm not fond of romances (that weren't written hundreds of years ago at least) but I heard it mentioned in an interview with a musician who's name I never caught on NPR and then in the forums on Ravelry which I took as a sign so I downloaded it from Audible.  It's a beautiful, fantastic story but I don't know if I would love it as much if I had read it in print.  You're reading accounts from three characters as well as chapters of the History of Love and each are read by a different actor which I didn't think I would like but it kept it interesting and made it easier to follow.  The actor that read Leo Gursky's parts was really fantastic and, half of the time, I found myself anxious to get back to his parts.  It's another book I would definitely suggest for a summer reading list - especially the auidio version if you're into that (I wasn't for a long time but have recently succumbed to the charms of being read to - Fool by Christopher Moore read by Euan Morton is another I've listened to recently and highly recommend). 
This weekend, Italy and gelato and things, I swear.