...knitting...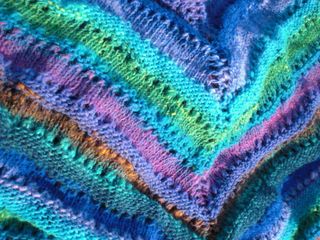 The Gaia Shoulder Hug was supposed to be my airplane knitting.  You know, back when I thought I was leaving on July 12th.  Chris was making one on what was also supposed to be my last Sunday knit night (oh how naive I was!) and I thought it would be perfect.  Now I have less than one hundred rows before I'm actually finished with it.  Sigh.  
It's a bit more colorful than I'd expected - the insides of a skein of Noro (this is the sock yarn - #182, I think, on size 5 needles) can hold oh so many secrets - and a little monotonous but I still like it and think it'll look great this fall with my denim or black corduroy jacket.  
I'm also knitting up a pair of Susie's Reading Mitts with a couple balls of Poems in shades of grey.  Cute, comfy and very quick to knit.  No photo, though, as I'm doing some repair (*cough* I had it all finished but the thumb which I wasn't happy with the looks of to begin with - ended up frogging the whole thing due to some pretty serious stupidity on my part *cough*).
For my birthday I did a little splurge yarn shopping at Fiberworks in Beavercreek and, besides the above mentioned Poems and a skein of Misti Baby Alapaca (to make a Stella), I brought home a lovely hank of Fino in Black Pearl with the intentions of making another wrap.  I've cast on at least three patterns but haven't found one I'm happy with just yet.  
...loving...
Having the house to myself tonight.  Mom, Dad and Buddy are at a picnic.  My current anti-social "weekends suck because I can't get an email from the embassy" attitude made me decide to stay home. 
My husband.  Here's where I brag a little bit.  This is what I saw when the camera came up on my birthday morning.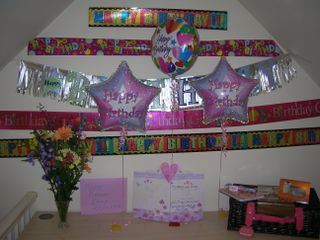 The sweet picnic hamper was wrapped in shiny purple paper and, of course, the "giant so you can see it on the camera" card was still in its envelope.  :)  I had a stash of gifts and cards from him and his family that I opened and later we had a little tea party with cake and candles which he blew out there as I blew them out here.  I don't think anyone could have thrown me a better party for two from four thousand miles away.    
...reading...
Lolita by Nabokov.  Besides the fact that it's a classic and has been made in to a movie at least twice, I had read good things about it recently and was contemplating giving it a try.  When V recommended it, I picked up a copy at Half Price Books and got halfway through before I had to put it down for a lengthy break.  It's not just the subject matter - frightfully disturbing without being a bit graphic - that made me stop but the also the filling way he writes.  Mostly, though, it was the subject matter.  I'll get back to it eventually, though.
South of Broad by Pat Conroy.  On Monday I had said to Matt that I needed a good book to read.  A physical book.  I was listening to The Strain (the first in a vampire like no other vampire you've ever experienced series written by Guillermo Del Toro [of Pan's Labyrinth] and Chuck Hogan) but listening to it late at night put me to sleep and gave me nightmares (twice).  The next morning there was a coupon in my inbox from Barnes and Noble for the just released South of Broad, Pat Conroy's first work of fiction in fourteen years.  I love Pat Conroy.  I love the places he writes about and, oddly, I can't get enough of the filling way he writes.
I was only a couple of chapters into it, though, when I found out that Carlos Ruiz Zafón, author of the fantastic The Shadow of the Wind, had a new book out called The Angel's Game and my library had a copy in the Express section.  So I'm trying to gobble that up in the seven days I'm allowed to have it before they start charging crazy one dollar per day overdue fines.  It's not as good as Shadow but it's still captivating and while I can't wait to finish it, I also hate to think about not having it to read.  I felt that way even more so about Shadow and was glad to see that this takes place in the same area with some of the same characters.  
Okay, after feeling like I have had absolutely nothing to say for days, I suddenly can't get my fingers to stop typing.  I think, though, this is quite enough for one post!