Christmas is trying to work its way in around here but its having a hard time of it.  We packed up a box of gifts for my brother and parents and shipped it out on Tuesday which reminded me again that I won't be in Ohio for Christmas.  I was able to do the shopping and wrapping with my brain shut off but sending it off just brought it all back.  I put all of my Christmas music in a playlist today so that I can add it to my iPod again and I'm thinking dear, sweet Bing's "I'll Be Home for Christmas" just might have to be left off this year. 
I did get the tree up and decorated.  Granted, I fell over a couple of nights later.  Thankfully only one ornament was damaged and even it can be repaired and the cat that I suspect might have been lingering beneath the tree when it toppled fled upstairs and stayed there for quite some time. 
Sadly, I haven't had the heart to redecorate it.  I really meant to go at it with Christmas carols and a mug of hot chocolate this afternoon but...the ornaments are still in baskets sitting on the couch.  There are a few decorations in the conservatory as well, including a miniature tree, but they're not officially out and the tree is bare. I did watch the first two episodes online of Kirstie's Homemade Christmas that I'd missed so that I could watch the last here in about fifteen minutes and was hoping I'd feel myself sinking into the Christmas spirit.  Nope.  Perhaps it's time to pull out the big guns and watch Elf or The Christmas Story.  Matt's never seen The Christmas Story so I'm really looking forward to watching it with him - maybe this weekend.
I've been doing a lot of knitting and crocheting for Christmas that I'd like to share but I'm running out of time and I really would like to have a cup of that hot chocolate I mentioned a few minutes ago so I'll just share my favorite - a bear for my mom.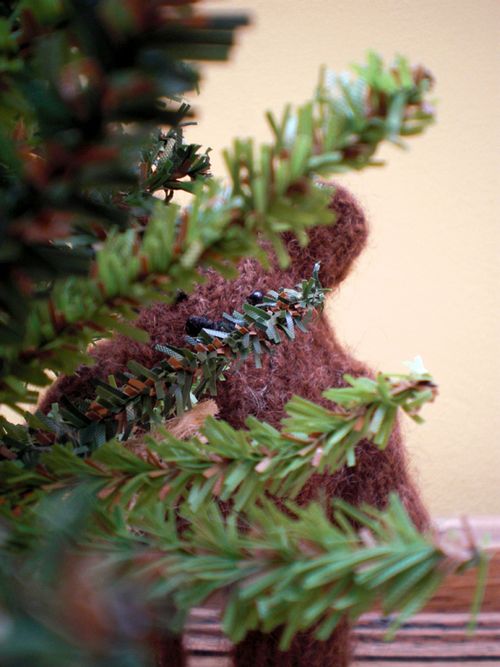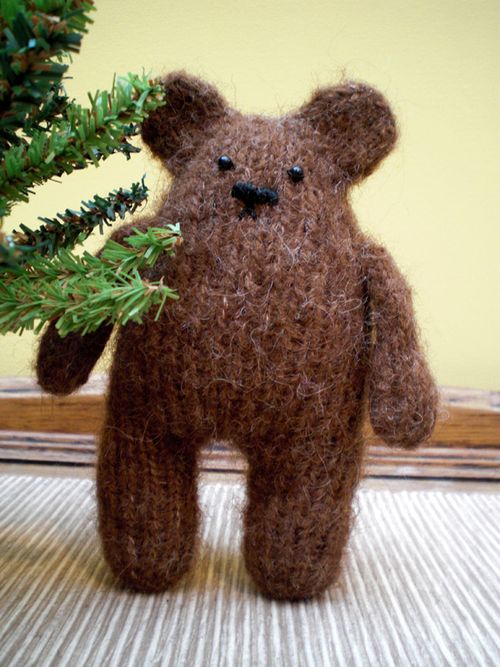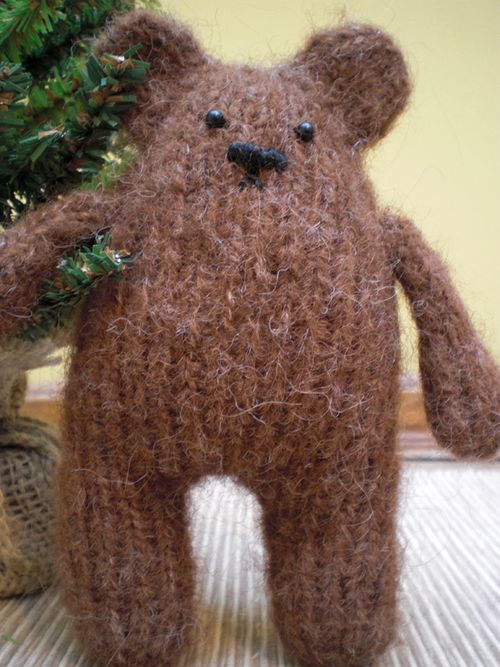 This is my first knitted toy and I'm really happy with it.  Rebecca Danger's patterns are cute and easy to follow - and I already have a couple of others in mind that I'd like to knit up - especially this guy.

Herman the Enigmatic Bear knitted with Rowan Alpaca Cotton.  
And now I'm off to chase the spirit a little bit more....