I just spent an hour or two talking to my grannies for the first time, I think, since Christmas.   I've been terrible about keeping in touch with anyone (save my parents - we have an almost weekly video chat with them) and I finally figured out today why that is.   Talking to people from home just reminds me that much more that I'm not there. 
I had a surprisingly good grip on my homesickness during the Christmas season and I thought maybe I had seen the last of the worst of it but, no.  It still shows up occasionally.  Sneaks up, really, and I find myself in tears during something as mundane as a walk around the cathedral, thinking how much I'd like to be back in Ohio. 
Because of these sneaky feelings, talking to my grannies is kind of like going to the gym.  I dread the way I'll feel before I call them and am even a little sad while talking to them but it leaves me feeling pretty good.  And it's really nice to hear the excitement in Granny Creva's voice when she says, "Am I talking to who I think I'm talking to?"
It'll get better and it is better some days but...it's really hard.  I miss my family and my friends.  I miss American restaurants and shops that are open past five-thirty.  Thank goodness I have a supportive husband whom I love very much or I'd be a mess.  So far - knock on wood - the married part of life has been easy, wonderful and a million other positive adjectives.  It's just the living in another country that's hard.
Sigh, enough of that.
                                                       ~~~~~           
I'm knitting a sock!  Actually this isn't an entirely new concept.  I've probably mentioned that I've knitted two other socks before - socks who will never find their mates - but this time I'm determined to cast on for the second straight away.  Granted, I haven't actually finished the first yet - just another inch and a half to go - but I'm going to hang on to that determination.  I really want to be a sock knitter. 
Lots of painting and rearranging going on around here in preparation for my parents' visit in a month and a few days.  I did something in the sitting room tonight that I'm going to ask for opinions on tomorrow (it was too dark to take photos by the time I'd finished). I like it but ...it could also be thought of as just messy or maybe even as a shocking abomination.   Ah the suspense....
Yesterday was Date Wednesday so we drove to Alresford where we hadn't been since my very first visit.  They have a great coffee shop there called Caracoli and it was - along with a couple of shops and a creepy bookstore - the reason we decided to spend the afternoon there.  Their hot chocolates are very artistic.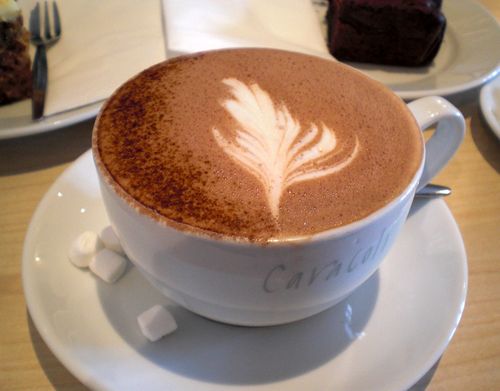 I'll never tire of taking photos of things I eat and drink.