While I was on a last minute trip to Ohio (more on that another day), my friend Kim did something really neat and rather ambitious on her blog - she matched her friends to saints. Over twenty of them. That's a lot of work!
I was lucky enough to have been given Raymond, Mothers of Infants which was especially apropos as Emmett and I travelled solo to the states and it was really a challenge to my motherhood. A good challenge and one that wasn't as tough as I thought it would be (it helps that I gave birth to an angel) but a challenge never the less.
Kim is really amazing and I wanted to return this favor in kind. And I tried. I looked at lists of saints by name and by subject and nothing really encompassed everything that she stands for.
So I made one up.
Kim's saint is Saint Hyer...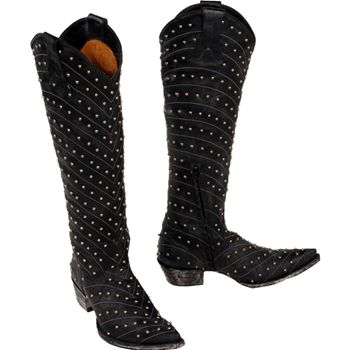 Saint of the Cowboy Boot

I chose this saint not just because Kim loves her boots (and was even married in a pair) but because there really is a bit of her in a good pair of boots. For one thing, she's as colorful and quirky as the really unique kind - like the ones above that she mentioned on her blog some time ago. The past year and more has been difficult (to say the very, very least) but she remains sturdy, standing as tall as she possibly could in these circumstances. And, to continue this little bit of cheesiness, she's reliable. Always there with a comment or a quick email that just brightens your day - seemingly when I need it the most. 
I'm very fortunate to have met her all those years ago when her love of handsome celebrities (another thing she's really good at: posting eye candy on her blog) led her to put together the Knitter's Hunk competition. We may not have met up before I left for the UK but I think a night in Nashville for some music and unending chatter will happen some day, I really do.
P.S. Kim, I did an extensive search for a photo of Hugh Laurie in cowboy boots - alas, I couldn't find one. :)