It's a good day when two out of three things that fall through your letterbox are Real Mail!
Look, look, look at the cardigan my friend Sarah knitted for our little acorn!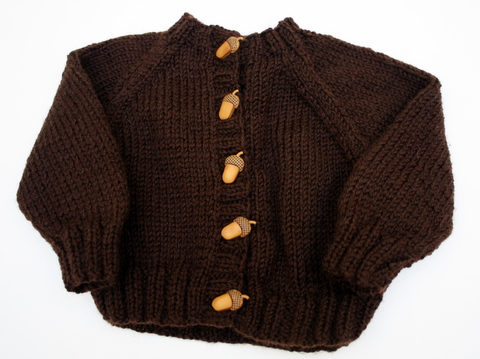 And yes, the buttons are exactly what you think they are: acorns!  And since I have never knitted anything but top down sweaters, may I point out how impressed I am that this actually isn't knit top down?  
Thanks again, Sarah - I can't wait to see how handsome he looks in it!
The second piece of real mail was a card from my parents.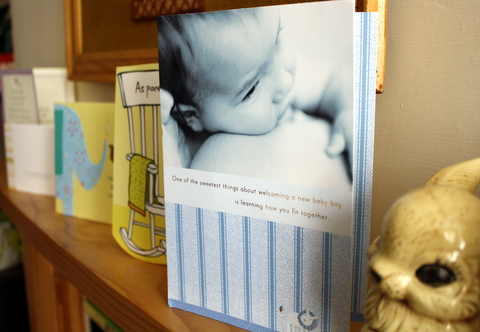 I think I've mentioned this before but it bears repeating.  They've been sending us a card a week which has been such a nice way of reaching out from so far away.  Nearly every one of them brings a tear to my eye (although, these days, what doesn't) and this was no exception.  I can't bear to take any of them down!  I told Matt today that I would miss getting them in November and then laughed at myself.  I think a baby is a pretty good replacement for a weekly card in the mail!  
And lastly, something I didn't get in the mail that still shows lots of love ...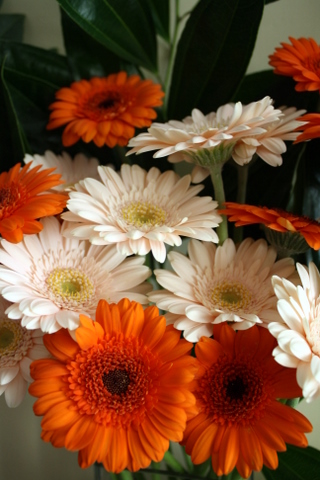 Our little acorn had his dad bring me some flowers and a card the other night to thank me for pricking my finger several times a day to take care of him.  Sweet!
I've only been monitoring my blood sugar for a few days but it seems to be going well.  Even when I totally blew a day by eating Burger King for lunch and pizza from my favorite pizza place for dinner, my numbers were still perfectly fine.  I  made up for it by having a Quorn burger with carrot sticks today, though, and I have to say, Quorn burgers are pretty good!  The hardest part of this is eating enough of what's good for me and the baby.   I find myself hungry more often and fear has me waiting longer than I should to eat something so when I do it ends up being one of my three main meals.  I should be eating something every couple of hours.  We've stocked up on some snacks that are healthy but quick which should help me not reach for the tea biscuits.  In fact, I'm off to dish myself a bowl of Greek yogurt right now....