This morning we leisurely hopped out of bed at 9:30, got ready and went into town for a nice, quiet breakfast at a new cafe that opened this week (and we've already been two three times in as many days).  Just the two of us with no pushchair, diaper bag or even Moby Wrap in sight.
Since the baby ball started rolling last night, we're really trying to enjoy these last moments.  It's rolling a bit slower than we thought it would - we were sure we wouldn't get to sleep through the night, let alone get through most of today - but signs are definitely pointing in the direction of "You Could Be Parents By the End of the Weekend!" and I feel really good about it now. Much calmer. I woke up feeling cheerier and happier than I have in days and that mood has managed to stick with me which is really saying something considering how crazy my hormones have been. 
After breakfast, as we walked back through the close, picking up leaves for reasons that will become clear in a few seconds, we talked about how amazing it is that we met in person two Novembers ago, were married with me living in a new country by the following November and that by this November we'll have had our first child.  It's absolutely amazing. What in the world could happen by November 2011?!
Matt also pointed out another funny little bit of symmetry.  Last night, after the signs started and as we were getting ready to go to bed at a crazy early hour in case it was a long night, the phone rang.  I heard Matt ask who it was and then say, "Okay, I'll keep that under my hat," before handing me the phone.  It was my friend Maggie!  I haven't talked to her, literally, since the day I moved here.  I ran into her at the airport when I was leaving the US as she was coming back from England where she had been visiting her brother.  She's also the reason I signed up with the penpal site where I met Matt.  It only seemed natural that she call out of blue just as we start to think our little acorn might arrive soon but I didn't even think about it until he brought it up.  It's such a funny little world!
And here's the reason we were gathering leaves...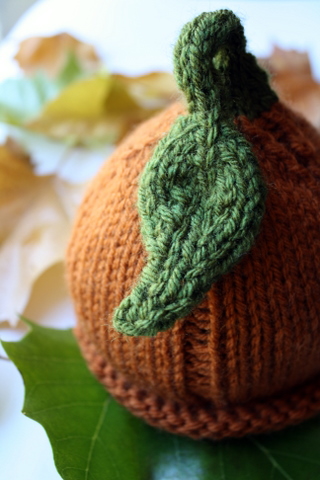 I had actually brought it with me to take a picture of under a tree or something but I completely forgot to put my camera in my purse.  It's currently with several things that need to go in the hopsital bag at the last minute.  :)
Anyway, once we found out he would be here before Halloween I knew I needed to make him a little pumpkin hat. This might become his coming home hat if it's not too big - we'll see. I sewed in the ends and, like magic, the signs started appearing.  I think I need to come up with something else "magical" to knit on tonight while watching one of the last few episodes of Dexter Season 4 (which is so freaking, amazingly good). 
Time for a little tea and biscuits - keep your fingers crossed for me that tonight's the night!