I mentioned in my next to last post that I didn't really like being pregnant.  Honestly, that was barely scratching the surface.  I'm having a really rough time.  Bad days, big tears.  All of my issues don't have to do with actually being
physically
pregnant but I'm sure the hormones aren't helping. 
I needed a stress reliever - something to take my mind off things - so I finally pulled out the Forest Friends embroidery patterns I purchased from Sublime Stitching last month.  I'd forgotten how much I loved pulling a needle and thread through fabric and spent nearly the entire day stitching away except for the quick trip I took into town to buy a few more colors.  I've got to go through my unpacked craft boxes soon because I already have a pretty good stash of thread and really can't afford to pay a crazy 85p/$1.35 per skein to build up a new stash.  Plus I've got several other pattern sets from Sublime Stitching that I'd love to play around with again.
This owl was the first thing I limbered up on yesterday.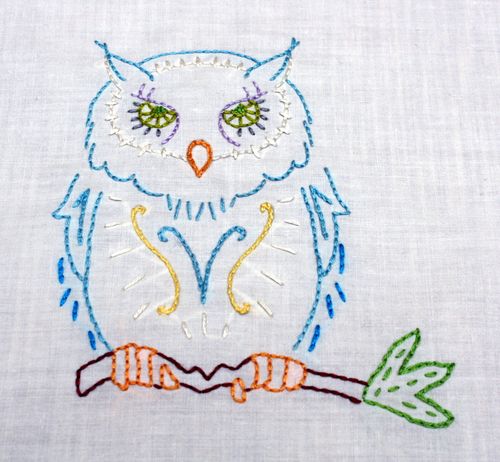 Then I put the colors away and stitched this little hedgehog,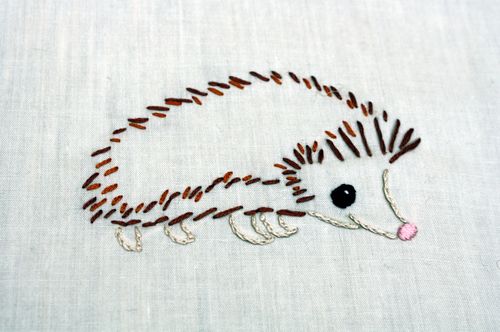 Now I'm working on the squirrel.  I'm taking my time and really making sure my stitches are even and feeling a little less stressed with each one of those little stitches.  And, Catherine, I had to go through French knot lessons again!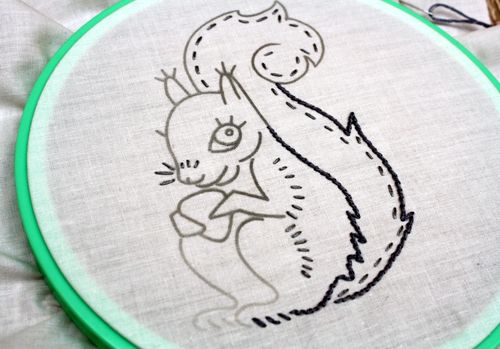 I'm going to dig through my fabric stash, too, and back each of these with a matching fabric to make little stuffed animals for the baby's room or maybe a little mobile.
Speaking of the little acorn, I'm 25 weeks along and had a checkup today and got to experience one of the really great things about being pregnant: hearing the heartbeat for the first time.  At my only other midwife appointment she couldn't find the heartbeat so I actually ended up having a scan instead.  And regardless of how I feel on the inside, she told me that I looked great and that pregnancy really suited me which was really nice to hear. 
Another thing that makes me feel better is looking at baby clothes and we did a little of that this afternoon.  I know everyone oohs and ahs over cute clothing for girls but boy's clothes are pretty darn cute, too!   Picturing the little man who will fit into them also does a pretty good job of pushing aside a few of my problems - we can't wait to meet him.