Matt had to work yesterday so I did something unusual and got out of the house not too long after he left and at least a little before the tourists started to flood the cathedral close.  No tourists meant that I could finally take a decent photo of Mompesson House.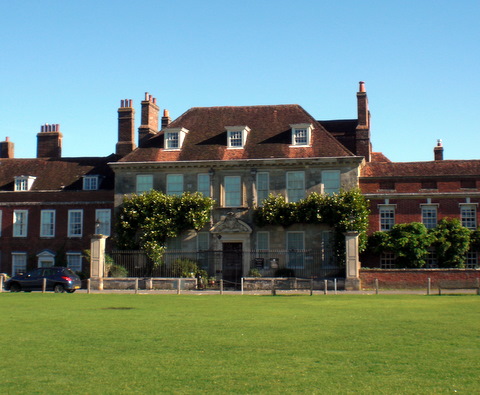 Mompesson was built in 1701 and I'm sure there are those who love it for it's historical value. I guess you could say I love it for it's historical value as well - just a much more recent history.  If you're a big fan of Sense and Sensibility you might recognize this as Mrs. Jennings' London home which means...Alan Rickman was here.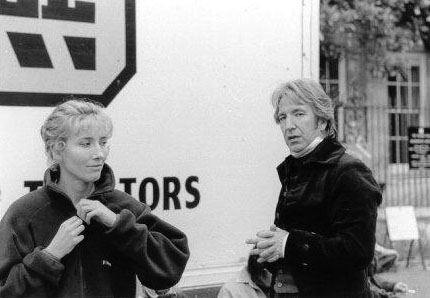 I couldn't find a photo from the actual movie but you can see the same sign to the right of Mr. Rickman in the first photo. 
We actually went inside a couple of weeks ago when Matt's dad and stepmom came to visit but we'd already been walking around quite a bit and the bump and I had had it so after taking a glance at the extensive Turnbull drinking glass collection and the album of photos taken during the shooting of Sense and Sensibility (the above photo is one of them), Matt and I sat outside while they took a tour.  
Colonel Brandon is one of my favorite roles Rickman has played because it shows that he can be a good guy just as well as he can be a bad guy.  Brandon is also probably my favorite Austen male character (and not because Rickman played him in the movie).  I've never been a big fan of Pride and Prejudice (gasp, I know) and never really liked Mr. Darcy (double gasp) either.  Colonel Brandon is where it's at.
Unfortunately, my pleasant, quiet day took a turn when I opened the front door and heard the phone ringing.  My glucose test results were back and...I have gestational diabetes.  Anything above 7.8 is abnormal and mine came in at 8 so I failed it by a ridiculous, maddening amount.  It's not life altering or anything, thankfully, but I was still disappointed and had a rather rough rest of the day. 
I can tell you right now that my problem isn't sweets but those other tasty things that break down into sugars like the baked potatoes I've been craving and that we have for dinner at least twice a week.  Oh how I'm going to miss baked potatoes....
I have an appointment to talk to someone about my diet and pick up my machine on Friday and then another appointment with a midwife who isn't my regular midwife the following Tuesday but I was so thrown by the results that I honestly have no idea exactly what the midwife appointment is for.  I have an appointment with my midwife (my last, unfortunately, as she's moving to Scotland) on Thursday and am really looking forward to talking to her about it.
Time to get ready for knit group where I should be able to finish up the sleeves on the tiniest cardigan ever!