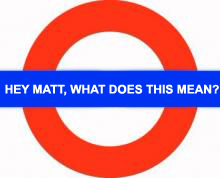 It's time for another installment of Hey Matt, What Does This Mean?
Today it's all about the teenagers that, as adults, we hope we weren't like when we were younger.  I've mentioned before that we live on a fairly busy street just a block from at least one bar and not far from several others so we're plagued with these definitions almost nightly - definitely Thursdays through Saturdays.
chav: working-class or lower middle class teenagers are are uneducated, uncultured and prone to antisocial or immoral behavior.  Chavs are all about the "bling" and designer clothing - imitation or otherwise.  Vicky Pollard is my favorite chav. 
yob: closely related to "chav" - a young, obnoxious, aggressive young man.  It's Thursday so the yobs will be out in droves tonight, yelling and banging on the trash bins outside.
We use the term "yob" much more than "chav" and usually as an adjective as in "those yobby kids."  
Tune in next time for more "Hey Matt, What Does This Mean?"!