I don't really have a favorite yarn.  I like a little bit of everything but if pressed I'd probably have to mention Malabrigo or Manos del Uruguay but not enough to write a whole blog post about it on this the last day of Knit & Crochet Blog Week so I thought I'd use the wild card and talk about knitting notions instead. 
These are my favorite notions cases (or "noodle cases" as Matt calls them since he misheard me once).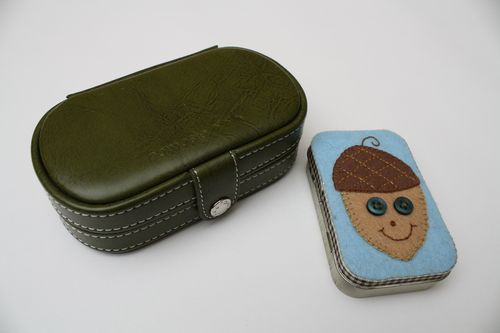 My namaste case and the incredibly awesome Altoid tin case my friend Catherine made for me before I left Ohio.  I mostly use the namaste case at home and use the acorn as my little traveling case because it's perfect for carrying things such as these.
Okay, the row counter doesn't fit in the case but it's still a staple.  And yes, those are the little plastic thingies that keep your loaf of bread closed there on the Super Sticky Post-Its (which also don't fit but I always carry).  The girls in my Dayton knit group used these to wind up the yarn left over from casting on which I thought was a fantastic idea.  Sure, sewing that end in after knitting a couple rows might be a little more practical but I'm one of those knitters who often ends up knitting the first row with that little piece of yarn so immediately winding it on one of these little bread thingies is incredibly helpful.  
No, this is not a shout out for Tesco.  It's a project bag.  A concept introduced to me by Catherine along with the Super Sticky Post-It's for keeping your place in a pattern.  I had a couple of projects floating around in my bag at knitting one night and one must have gotten tangled or something because she offered me an extra bag she had and I've used them ever since.  I have to say, though, recently I've not been so good about keeping my projects organized (or anything else in my life for that matter) but am trying to get myself back in the habit.  I can proudly say that the project I'm going to post tomorrow is indeed in it's own little bag, all together, safe and sound.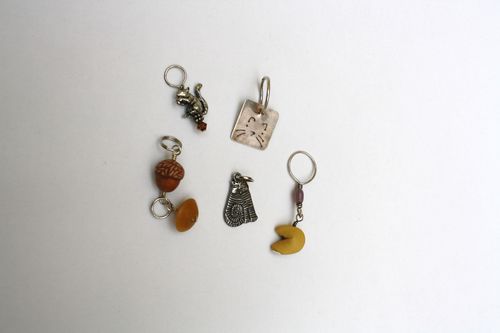 Speaking of not being very organized: I've misplaced the little bag where I keep the majority of my stitch markers but these are a few of my favorites that always seem to be close at hand.  
And, finally, some of my very favorite knitting tools: my Knit Pro Symfonie Interchangeable Needle Set.
Matt got this set for me for Christmas and I pimped it out with some extra needles, cables, cable extenders and those little discs which you would put on a cable to let you know what needle size you were using if you needed to take the needles off for another project.  If I take the needles off a project there's a good chance I won't be coming back to it for a loooong time so those have come in handy.  The ruler didn't actually come with the kit - it's one Squiblet gave me after I embarrassed myself at a yarn shop by know the US size of a needle I needed but not the metric size...which is what they use here.  The only downside to the Symfonie needles is that the sizes that are painted on them rubs off after about one use so keeping this in my kit makes sure I don't end up saying, "I think this is a six...."
So that's it for Knit & Crochet Blog Week.  I'm a little disappointed in myself because I started out gangbusters but quickly lost momentum although, lately, that's pretty much been the way most things go with me.  I'm now in my second trimester - the "easy trimester" - and am definitely reaping the benefits everyone talks about (I can stay up until eleven or even - gasp - later which is something I couldn't say a month ago) but I seem to be a little moodier and that can swing pretty quickly from cranky to crying.  Sigh.
If you'd like to read more wild cards, click this link.  If you'd like to read about favorite yarns, click here.  Hope everyone had a great weekend!