As if the baby shower on Sunday wasn't enough to turn a frustrating day around, I was in for another surprise when I got home. Matt had finished clearing out the baby's room, mopped the floor and had the changing table and half the chest of drawers put together!
After showing him the shower goodies, I decked out the changing table and started filling the chest of drawers with all of the clothes we brought back from Ohio. I'd forgotten how tiny and cute some of those little outfits were! Then we put together the crib, did a little "staging" and had a Skype chat with my parents to show them around since they so kindly bought the furniture for us. 
So now that the room is mostly finished - we have a lot of little finishing touches to add, of course - I can reveal the tree! I haven't even started on the leaves but I can add those little by little. I have visions of Mom and I making leaves while we're waiting for the baby to arrive....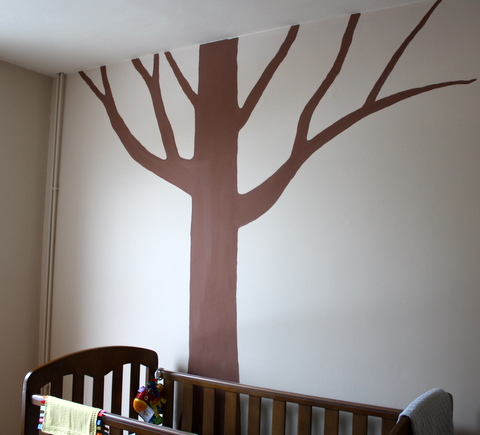 It's huge! It goes from floor to ceiling and nearly takes up one entire wall. We're also adding a little birdhouse nightlight and I'm going to "carve" our initials into the tree as well.  
The room really already looks fantastic but I'll wait until we've done some decorating before I post any more photos. My granny has made us a little woodland themed quilt that Mom is bringing, too - I can't wait to see it!
In the mean time I do have some - sigh - finished baby knitting to talk about. I keep saying I'm going to knit something for myself but nothing really appeals. I have a blue and a purple skein of Rowan Pure Wool Aran, and I'm determined to knit myself a cowl with one of them before the acorn gets here. In fact I may add that to my (should be long but is really short) to do list for tomorrow.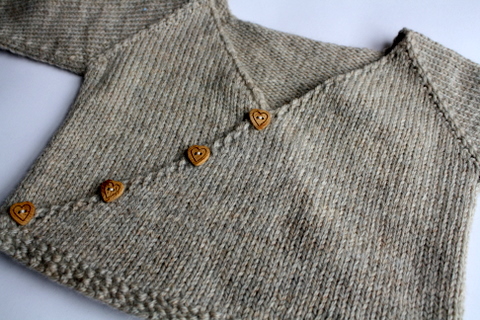 This Seamless Baby Kimono and I go way back..back before Matt and I even got married. We were getting married, though, and we'd talked about having babies and we knew we were eventually going to try so I didn't feel like I was really jinxing anything. Technically, this was my first sweater - not the Shalom or the February Lady Sweater - although I didn't block this and sew on the buttons until this week. I did make a few changes to the pattern: I used buttons rather than a tie, sewed in a popper on the inside of the side opposite the buttons and did a seed stitch along the bottom rather a few rows of garter. I love it but am a little worried about the cuffs. They didn't actually show up in any of the photos I took but they're kind of tiny.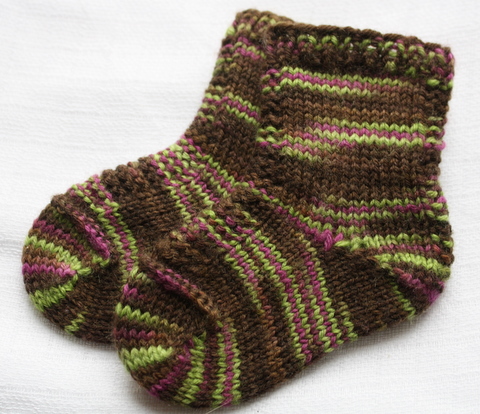 This is another pair of the Garter Stripe Baby Socks and I call them Alan's Socks. And why is that? This yarn was actually part of the prize package I received from Kim when Alan Rickman won the first Knitter's Hunk back in 2007. I knitted my very first sock with it right away but that's when I discovered I was one of those with Second Sock Syndrome so the rest of it languished in my stash, waiting to maybe be made into a second sock someday. Alan was in the running again this year and doing really well so I decided to knit a pair baby socks in his honor. I finished them just a few days before he was crowned Knitter's Hunk again this year!  So, yes, Alan's Socks - very appropriate.  I'm also quite proud that I almost got the pooling to match.  :)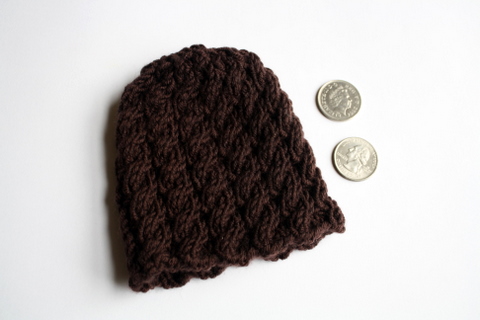 This BItty Cabled Hat is part of our little acorn's coming home outfit.  I've mentioned the cardigan that goes with it before because, even though it's very simple, I'm having trouble with it.  I had the body finished but ended up with gaping holes under the arms that I just couldn't fix so I ripped it back to the arm holes but then somehow managed to flub up one of the cables and into time out it went.  Unfortunately, the pattern for it is one of the ones I can't find and I had already made some very helpful notes which are now also who knows where. I think rewriting them is also on the list of things to do tomorrow since I'm beginning to feel like having his coming home outfit complete is pretty important.  That and finally settling on a car seat since that's really the most important part of his coming home outfit!
I took a photo of this with a quarter and a 10p coin to show just how bitty it is. Very, very bitty.
I had an antenatal appointment today to check the progress of my gestational diabetes. It was a miserable appointment in that we waited for two hours only to talk to a consultant and the GD doctor for about twenty minutes but, thankfully, things are good and I'm still able to control it with diet rather than medication. The consultant also seemed fairly open minded to the fact that I'm really against induction if there's no medical reason for it. I'm also open minded to whatever needs to happen but, of course, would like things to happen as naturally as possible. I don't want to be in labor for 48 hours and I really love the idea of using a birthing pool for pain relief (not for the actual birth, though) and an induction means being hooked up to a machine which means no birthing pool and a possible long labor with interference.  
I'll settle for a healthy baby, though - no matter what it takes.  :)