If cats could sense impending labor like animals sense storms I would say our little acorn's arrival wasn't far off.  Lucy, my older, less affectionate (with me anyway) cat would not leave me alone this morning until she had a little cuddle while lying on my bump.  She eventually slid off, though, since there's not much room left in my lap and went upstairs to curl up in bed with her real favorite: Matt. 
Another reason his arrival could be on the horizon is that I had a sweep this morning and she said the results were "favorable".  I'm not banking on it but we'll see.  I go back Tuesday for another if this one doesn't work and if that one doesn't work I'm being induced on...wait for it...Wednesday!  Eight days!  Why in the world they're inducing me one day after a sweep, I have no idea.  I'm tempted to cancel the second sweep if this one doesn't work.  I would have preferred to wait another week to be induced but, honestly, at this point I'm ready for it to be over and meet our little man.
A few minutes after we got home, some letterbox love arrived!  I participated in a little hat swap over on the November 2010 Parents group on Ravelry and here are my goodies from JenInProgress (who also calls her little one her acorn!):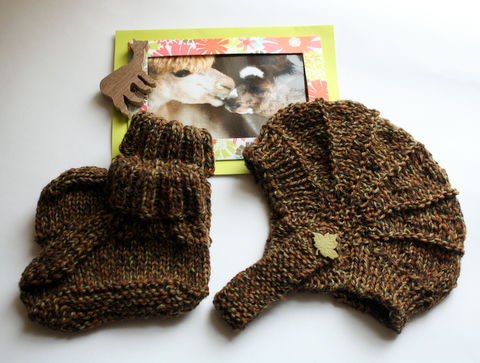 How cute!  Just last night I was looking at the Aviatrix Hat pattern and thinking that I'd eventually like to make one - think briefly and you shall receive!  And note the maple leaf - Jen is Candadian.  :)
And I would be completely remiss if I didn't mention the package my Dayton friend, Chris sent recently!  We had arranged to do a little swap for a magazine I can't easily get here (Interweave Knits, Weekend - speciafically for this uber cute Mariner Pullover pattern) and she went crazy overboard and sent along lots of fun things I miss: Kraft Mac & Cheese, Junior Mints, taco seasoning, candy corn (which Matt has never ever had!) and Goldfish crackers.  The crackers are so going in my hospital bag!  Thanks again, Chris!
I'm off to take a little walk and then pack the aforementioned hospital bag I meant to pack yesterday.  Better safe than scrambling - especially after the nightmares I had last night.