The original plan for yesterday was to do a little more unpacking and cleaning but, since Matt was taking the day off, the plan turned in to a trip to the Oceanarium in Bournemouth which is about a half hour away. 
The fact that the wind broke my new Monet umbrella on its first venture out, before we could even get from the car park to the aquarium, was an unfortunate sign of things to come: there had been a power cut at the aquarium and it was closed for the day.   Argh. 
Instead we went for a walk on a very windy beach.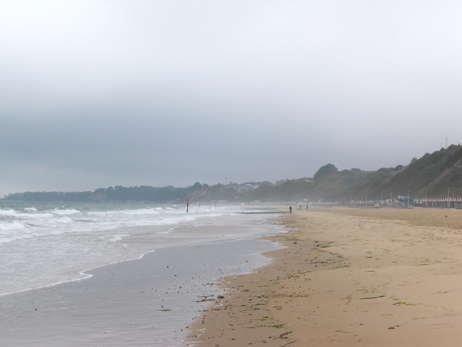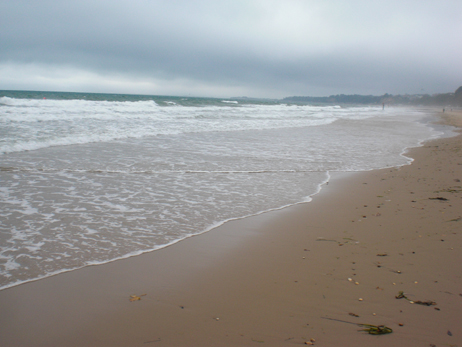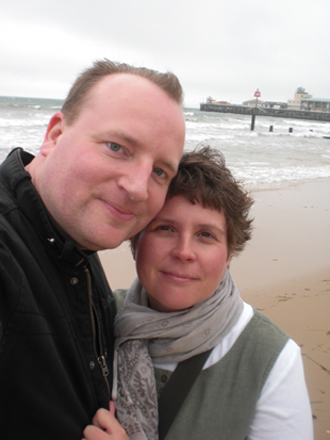 We thought about doing a little shopping in Bournemouth but, after walking around for a little while, we decided to drive a few miles away to Christchurch.  We stopped for lunch at Costa...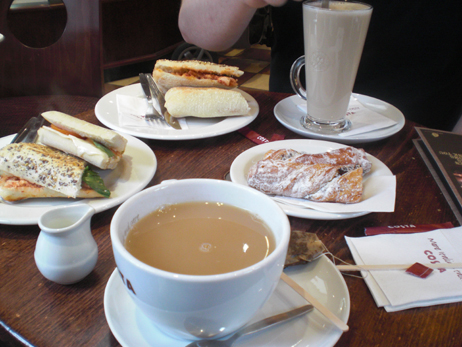 ..and then walked around town a bit, stopping at a great book store called Bookends and stumbling across a yarn shop called Honora Wool Specialists.  It was small but, literally, packed floor to ceiling with yarn - woo hoo!  I left with a set of needles for the Gooseberry Cardigan because I can't find my size 6 needles (note to self: carry a conversion chart of English to metric sizes in your wallet to save yourself some embarrassment), a skein of Manos in shades of blue and green, some Rowan Alpaca Cotton and a skein of Spirit (I had tried to get this online awhile ago but I think it's discontinued) to make a meerkat that actually looks like the pattern (because my first three attempts at meerkat heads weren't quite meerkatty enough).  
Then we walked around the beautiful priory.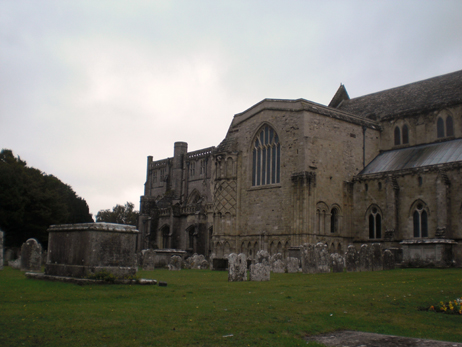 The volunteers should ask you what language you speak when you first go inside, not where you're from.  After my lengthy answer of, "I'm from the United States but just moved to Salisbury last week," he grinned, said, "We don't have it in United States so you'll have to take it in English," and handed me a little guide.  Embarrassing.  
There were lots of magpies on the grounds surrounding the priory.  I am obsessed with magpies and tried desperately to get a good photo (but didn't really).  Before I came here, magpies were just something from a nursery rhyme so the multitude of magpies (and pheasants!) fascinates me.  Imagine how excited I'll be if I ever get to see a hedgehog in the wild....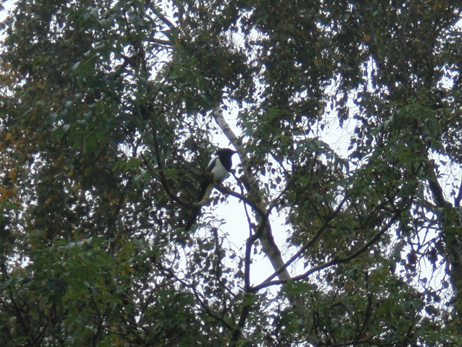 Lastly, I got a kick out of this sign.  Christchurch is obviously budget conscious as it was, of course, much cheaper to paint over the "West" on this sign than to build a new one after the unification of Germany.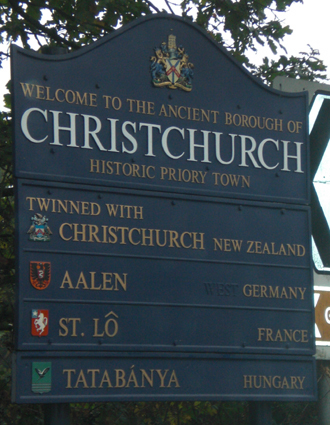 In other news, Matt is working two days in Oxford so he'll be staying overnight which means I have the house to myself until late tomorrow.  I know this kind of opportunity will be kind of exciting eventually but now, since I've only been here for, nearly at this moment, exactly a week, it's kind of weird.  But good, too.  There's still lots of unpacking and cleaning to do.  Plus I might venture in to town again to do a little knitting at Starbucks or maybe take the new book I'm reading, Olive Kitteridge (very good so far), to the Mill for tea and a flapjack (yum).  Or I might just lounge in front of the television watching British cooking shows....