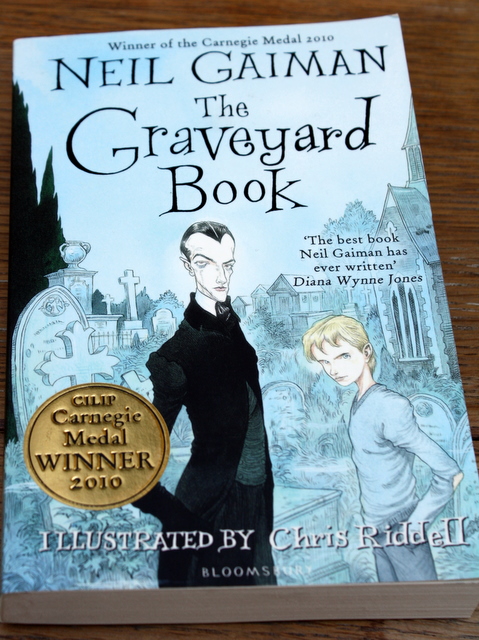 This is one of my very favorite books.  
And I've never even read it!  
I actually bought it on Audible about a year and a half ago when it won the 2009 Tournament of Books and was offered for some crazy low price.  Without that low price, sadly, I probably wouldn't have bought it because it clocks in at under five hours and my policy is to only purchase books that are going to take me several washing up sessions to get through.  Also, I had tried to read American Gods and never finished it, read Stardust and (gasp!) liked the movie better and thought Coraline was just okay so my track record with Gaiman's books was pretty miserable. 
The Graveyard Book is a great story. There's a reason that it has won a Hugo Award, the Newberry Medal, the Locust Award for best Young Adult novel and the Carnegie Medal in 2010.  It's fantastic. It's about a child who wanders into a cemetery after his family is murdered and is adopted by the ghosts that live there.  A bit gruesome but...it's so good and having the author read it makes it amazing .  Another policy of mine is to mostly stay away from author read audiobooks as they're usually, um, not so good but if you've ever heard Gaiman speak - even in an interview where the words aren't being read from a page but always sound as if they are - you know that he was meant to read his own writing.  If you haven't heard him here he is on NPR talking about audiobooks (and he talks to my other favorite author to listen to - David Sedaris). 
The reason I'm finally mentioning The Graveyard Book is that I've decided it's definitely going to be on my iPod when I go to the hospital.  Each chapter is a different story so it's easy to dip in and out of and I think we've already established that he's great to listen to. 
Matt bought me a paper copy of it for my birthday, too, so maybe, eventually, I'll actually read it!
You can see a tiny video of Neil's Carnegie Medal award speech here (it's the words that count anyway, right?).  I love how the story came about and what he has to say about potentially closing libraries here in the UK,  "Libraries are our future – to close them would be a terrible, terrible mistake – it would be stealing from the future to pay for today which is what got us into the mess we're in now. In this austerity world it's incredibly easy if you are a local authority and you are looking for cuts, to say 'Let's cut libraries'. But that's borrowing from the future."