I recently read on Facebook that the neice of a girl I went to high school with had come down with a case of E. Coli that had her in the hospital with all kinds of complications. She's been in for weeks and even "celebrated" her fourth birthday there. I haven't seen this classmate since our five year reunion and our twentieth is in a couple of weeks (a fact I just cannot believe) but something about this little girl really got to me. I couldn't stop thinking about her and decided to put together a little care package to cheer her up.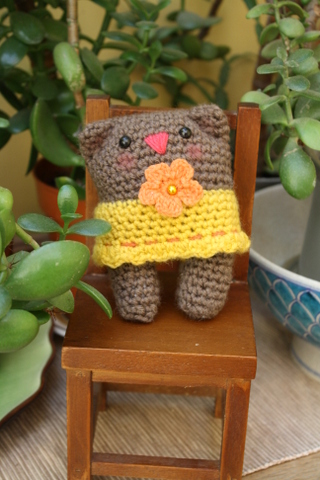 I have to admit, I'm going to have a hard time putting this kitty an the package and shipping her off to the states. I love her.  She's supposed to be a bunny (the pattern, Boxy Skirt Bunny can be found for free here) but when I finished her body at knit group on Sunday it was decided she might make a better cat. She's also supposed to have arms but I think, in this case, minimal is cute.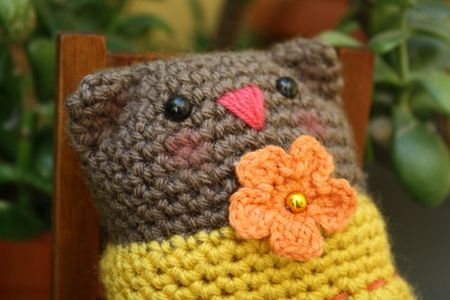 I tried lots of flowers but decided that minimal was best here as well. I thought the flower should go high because she's basically wearing a skirt and no top but once I sewed it on I thought it looked a bit odd but it's grown on me. I think I'll have to make another just like her for myself.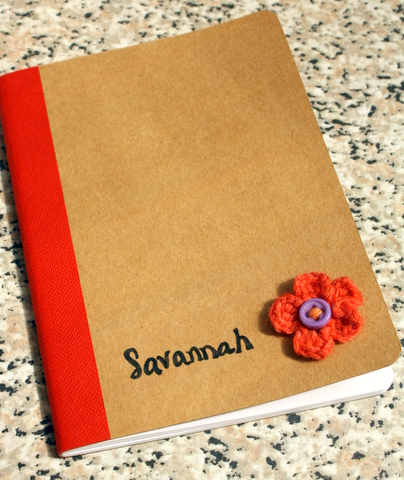 And this is totally a silly thing to post but it really goes to show that some times a little flair can make something pretty out of something plain. I wanted to send a little notebook since I was including a few little sticker packs and was pleased when I found this plain brown one with blank pages. A little flower and her name and - viola! - cuteness!
I got kind of excited about buying girly things so I'm also sending a bracelet and necklace from Claire's (why it surprised me initially that they were here too, I have no idea) and some fairy temporary tattoos. Hopefully they'll let her put them on in the hospital. Although, really, I'm hoping she'll be home by the time this package arrives.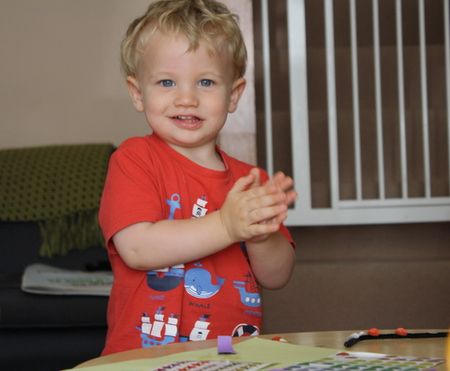 I'm also pleased to share that Emmett made a craft on his own for the very first time the other day. He picked out a pipe cleaner (oddly, he chose black) from our box of crafty stuff and started sticking sparkly circle stickers on it, applauding himself after each sticker because EVERYTHING gets applause in our house (because he's a totaly ham, I even taught him to bow when I say "thank you, thank you"). I totally count that as a craft - especially since he wrapped it around the back of his neck like a sort-of necklace when he was finished. Pretty good for a twenty one month old!