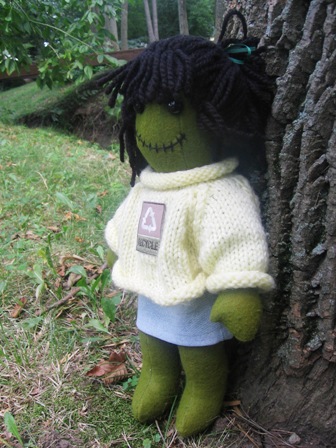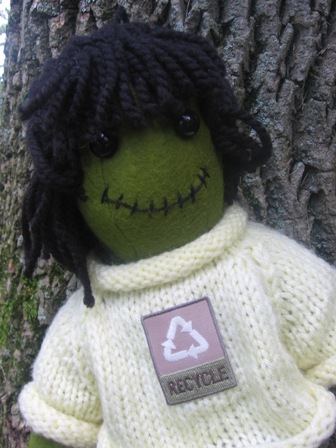 I was a day late in sending out my Swap Softly package but I think she was worth the tardiness.  Frankie is the epitome of Thinking Green (the theme for this year) - not only is she the color green but, seeing as how she's Frankenstein's monster's daughter, she's also made of recycled parts. 
This was really a pretty hard project for me.  I procrastinated much more than I should, thinking that grand ideas are always executed right the first time and without a single broken sewing machine needle (I managed to break three).  Not the case!  There were many failed prototypes, stitches ripped, horrid finished dolls flung across the dining room and crochet creatures ripped or left incomplete.   
I guess that makes me that mad scientist.  Rather apropos. 
The fact that this is one day late is just an example of how I feel.  Late.  Running behind.  Lots of blogs to catch up on, emails to send, housework to do, about four loads of laundry and a nearly empty underthings drawer.  Luckily, I can throw on a headscarf and my iPod and play catch up.  I'm adding the headscarf to my cleaning repertoire because Squeezleknits has taught me that a headscarf - tied in the front - and a vivid imagination can make cleaning fun.  That's a theory I'm willing to try out....
Note: I did not knit the sweater.  It was recycled from a thrifted rabbit.  I'm thrifty, not crazy!