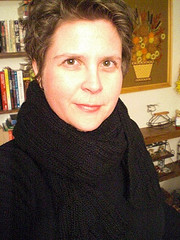 Matt's Scarf
Originally uploaded by Dainty Kitty
I finally finished the last few repeats of this last night, sewed in my ends - yuck - and packaged it up to send out today in hopes that it gets there before he leaves. Sure, I could just hold on to it and save myself ten bucks because he'll be here in ten days anyway (yaay!) but it's so fun to actually get packages in the mail and it's already been crazy cold.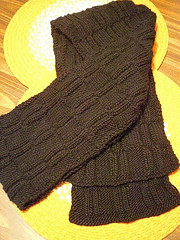 Matt's Scarf Full View
Originally uploaded by Dainty Kitty
This was a nice, mindless but interesting to look at pattern from Scarf Style by Pam Allen. I'm tempted to make one for myself in maybe a red or orange Malabrigo. 1.) I love Malabrigo and 2.) it's so long and warm and cozy. The only down side is that other end was already starting to fuzz by the time I got a few feet into it which is the problem with Malabrigo. My Holding Hands, Feeding Marsupials scarf does the same thing. Time to invest in a sweater shaver.

Low res photos on my new camera make black look kinda crazy and taking a photo of a black scarf on a black sweater isn't the most brilliant idea but...it was late.
P.S. I kinda like blogging from Flickr - it's pretty. :)