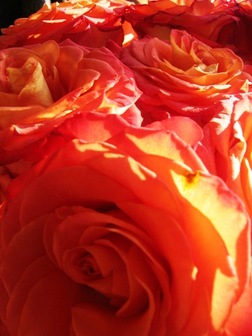 Waking up this morning was a little weird - knowing I didn't have any plans and my phone wasn't, for sure, going to ring.
Speaking of that - you know, I called my mom twice yesterday and finally got a hold of my Dad.  They were helping my uncle move so they were busy but my Mom didn't call me at all today.  I finally called her after my brother called to talk about Christmas plans.  She hadn't mentioned the break up at all.  I was beginning to think maybe my dad had forgotten to tell her or something.  No, she'd gotten busy and Dad had said I was doing okay so - no call.   I know I'm not a sobbing mess but...I was just really surprised not to hear from her at all. 
Anyway, I've been thinking a lot about who I was with Jake - like, who I became and what I let go.  A lot.  I didn't mean to but I think I may do this in every relationship.  I'm like a shape shifter and I take on the appearance of my significant other.   I like what they like and end up doing what they do.  Yeah, I'm not going to do that anymore.  I'm going to reach back out to my friends - the few that I have - and remember what it was like to have friends and go out and have fun.  I became more of a homebody than I meant to.  I mean, sure, there's a certain amount of that that takes place but...too much of that took place for me. 
And I'll never date a non-drinker again...as odd as that rule sounds.   No non-drinkers or men who have no interest in having babies - merely in makin'  'em.
Blog etiquette: what do I do about the fact that several of my posts are grouped in a "jake" category there on the left?  Do I go back and change them all to merely "relationship" or do I leave it as it is?  I mean, I don't want to create a category by name for the next man I date and make my category cloud a running list or anything (I have my fingers crossed that , in the future, this will not be the case).  I think I'll proablby just go back and change them to relationships...or not.  I don't know.  What do you think? 
Anyway, I've been cleaning today.  I've really not been myself lately and my apartment was really showing it.  I even went so far as to clean out my bathroom medicine cabinet and closet - throwing away old make up and things.  It's not like I need to purge Jake from my apartment - he only has a few things here, books he'd loaned me - but I want to feel good again and opening a fridge that hadn't been cleaned out in an embarrassing length of time every day wasn't helping.   
I bought myself roses, too.  I wouldn't have done that normally (I don't even like roses) but they were on clearance at the grocery store for three dollars and who doesn't want to give pretty three dollar roses a home?  They burst open overnight and are now the size of the palm of my hand.  It's sad to think they won't be around by the weekend (that's one reason why I don't like roses) but for now they look good on my coffee table. 
I went to see Into the Wild Friday night and tomorrow I'm going to track down a photo of the crocheted toboggan that played a minor role.  I think it was actually made by someone with an online shop but I'd like to make one.  It's not an uncommon pattern - it's pretty much like the cap I made my dad on the way to Nashville only a little bigger and little longer.   Anyway, it's a great movie - much more uplifting than I'd expected but still a tremendous tearjerker.  I bought the soundtrack last night - all Eddie Vedder.  It's really good, too but only about thirty-three minutes long.  I have a lot of trouble buying a cd that short but I did it anyway.
I'm in the midst of Knocked Up right now.  Cute - and a big Freaks and Geeks reunion.  And working on the Noro Hat  for my dad for Christmas.  I love Saartje's patterns.  The wine cork gnome I made this summer was one of hers and I'm working on a pair of her booties right now for a baby shower next month.
Anyway, back to the movie and the Ben & Jerry's I didn't polish off last night....
Endnote: Hooray - it was cold enough to wear my Jayne hat when I carried out the trash this morning!
* From "Guaranteed" on the Into the Wild soundtrack