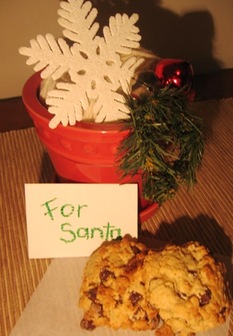 Last night I made Oatmeal Chocolate Chip Cookies from Orangette's recipe.  Her blog was the first food blog I read regularly.  It's wonderful and even her words make you come away smacking your lips.
Unfortunately, my brain was on backwards last night and I made a huge mistake.  Two mistakes, actually.  I didn't check my oatmeal and when I pulled it out of the cabinet I found I had about a fourth a cup of oats left.  Off to the store (for the second time in an hour).  When I got back I had oatmeal on my mind and tossed the required amount along with the chocolate chips in with the egg and sugar mix...completely ignoring the bowl of dry ingredients sitting there on the counter.  So I didn't quite mix it together the way I was supposed to and I think that may  have caused them to be so dense.  Next time I'll actually pay attention to what I'm doing.  And I might also make them a bit smaller - a fourth cup of cookie is a lotta cookie.  I ate one last night after dinner and I couldn't even think about eating a second one.  Granted, I was also also sipping on a mug of hot chocolate with marshmallows....
I'll try to take a better photo in the morning - I'm not fond of the fact that it's dark by the time I get home but I didn't want to write yet another photo-less post.
Now I'm going to settle into a night of knitting with my recent Netflix deliveries: Mrs. Brown (thanks Kim!) and An Awfully Big Adventure....
edit: I completely forgot that these cookies help out with my 101 in 1001 list!
44. Try four new cookie recipes (1/4)