After a little "what do you think of this?" chat with Matt, I ordered this poster (on sale!) from Studio Violet today.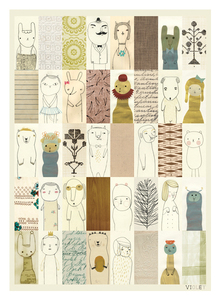 Photo courtesy of Studio Violet
Their blog is equally cute, too. 
Last night we started registering online.  This is a difficult task when your other half lives 4,000 miles away.  I'll be registering in person as well - with my Ginny, my fill-in-groom - but we had to start somwhere.  After a few minutes of floundering, we started to discuss colors and I think we at least came up with some good ideas.  We're basing the kitchen on a set of measuring spoons that I bought at Williams & Sonoma last weekend as well as a matching set of meauring cups and mixing bowls, so the three things we did register for last night are all orange.  Every English kitchen needs an orange scale, right?  :)
The idea of (carefully) packing and shipping what I have is very daunting but the thought of being able to build a home together is a wonderful reward.