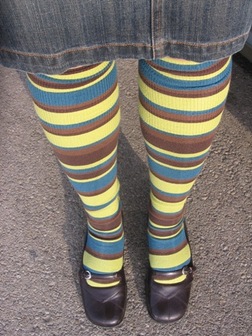 I was Easter basket shopping at Target yesterday when an older gentleman stopped me.
"I'm sorry - I have to tell you I love your knee socks." 
I laughed and thanked him.  "I love them too...and I won't tell you how old I am."
"It doesn't matter.  On the inside you're twelve just like me."
I thought that was really sweet.  And a good blog post so I took a picture of said socks when I got out to my car.  I may have posted a photo of them before because they're my favorite and I get lots of fun comments when I wear them.
Sadly, they're starting to fade a bit.  Ah well.