I don't know what the finally tally was but we had to have gotten at least a foot of snow this weekend.  I wish I'd thought to take a few photos but I haven't left my apartment since I got home around two on Friday afternoon.  I have been nothing but loungy and pajama clad, watching the first season of "Dead Like Me."  All fourteen episodes. 
I did managed to do two things other than watch movies and old television shows.  One, I made snow cream for the first time...I was going to say since I was a kid but I think I made it with Nate over ten years ago.  Still, it's been a long time - you know, pollution and all that.  I couldn't help it...all that whiteness piled up outside and I didn't even have to leave my apartment to get any.    It wasn't exactly as I'd remembered it but it was till pretty good.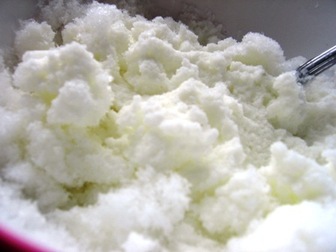 I also finished my mittens.  Knitted with Di. Ve Autunno using the Easy Mittens patter in One Skein Wonders.  I had to add a few stitches to the hand but it was quick, easy knit and - hey! - I finished a pair of something!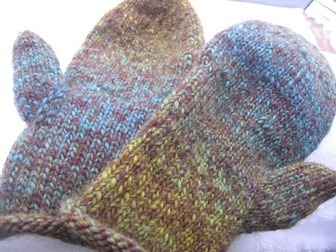 I started the second Mrs. Beeton while I finished up season two of Bosom Buddies this afternoon.  I really need to do some housework before I go to bed but I think I'll placate myself with a load of dishes and a load of laundry and then a little more knitting along with an episode of the The Flight of the Conchords which I've heard is brilliant.  After all, I have to ease myself back in to reality....