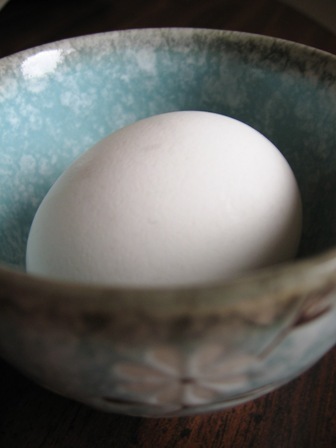 After looking over several recipes last week, I developed what I think is The Perfect Egg Salad.
8 boiled eggs
2 - 3 tablespoons mayonnaise
two stalks of celery, diced
1 handful of chives, diced
1 - 2 teaspoons curry powder, optional
My favorite and fool proof method of boiling eggs is to cover the eggs with cold water, bring it to boil, reduce heat to low and simmer for fifteen minutes.  After peeling the eggs - this is, I think one of the two keys to perfection - separate the whites from the yolks.  And this is the second key: depending upon your tastes, work two to three tablespoons of mayonnaise into the yolks.  Mix in the chives and celery.  If you're going to add curry powder, add it now.  I started with one teaspoon and then kept adding little sprinkles until I got it how I like it - a curry taste but not so overpowering that can't tell you're eating egg salad.  Then dice up the whites, fold them in and serve with green leaf lettuce on your favorite bread.
Egg salad sandwiches seem like the perfect picnic food to me.  And speaking of picnic food, I'm bringing this chickpea salad by Molly of Orangette to my next picnic (along with the blanket I made...if I ever finish it - I'm very close).  This Almond Torte with Sugared Apricots looks really good, too, and had me eying the display of cute little apricots at the grocery store earlier tonight.  If Jake hadn't decided this was his week to start getting back into shape, I might try to make it this weekend.   If his friend comes down from Canada, I might just make it anyway.  I mean, you can't exactly plan to eat healthy when you have house guests, can you?