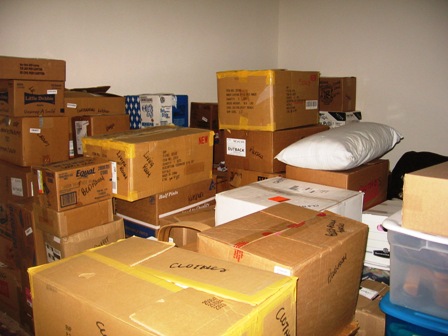 Due to the new wonky way U-Haul operates, I'm moving tonight rather than tomorrow morning.   Everything is as packed and organized as possible even though it might not look it.
I've decided I'm giving the people that are helping me move two chances each to use the phrase, "You have a lot of stuff" or any variation of the same.  I know I have a lot of stuff!
I've gotten some really great packages in the mail this week that I'm hoping to get to photograph and gush about at some point this weekend.   The journals that Matt ordered me from an Etsy shop arrived earlier this week and my package from my Swap Softly partner, Firefly, arrived yesterday.  This was the mother of all swap packages, seriously.  I'll give you a peek at the softy -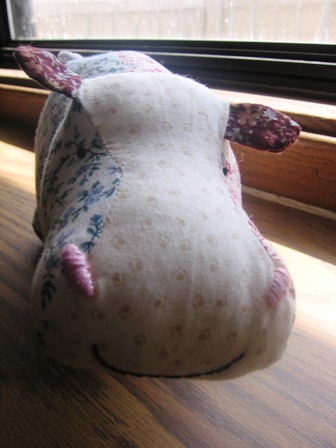 A hippo!  Wait until you see her tail!  I named her Gatwick after the airport I'll be flying into to meet Matt - 'cause I'm dorky and smitten and stuff like that. 
I have to gush a bit about Matt, too, just because.  I've been busy packing with Mom for the past couple of nights but he's stayed up past two, his time, each night just so that we could catch up.  The distance is starting to get painful - just a little.  I'm sure it'll be loads worse after the trip.  I try really hard not to think about that.  Really hard.  It's actually pretty easy because there are so many exciting things to concentrate on.
I'm so excited that, for the most part, my life is about to be back where it belongs. 
I am so behind at work today - it's impossible to concentrate!